Customized Hustle Kindness® Shirts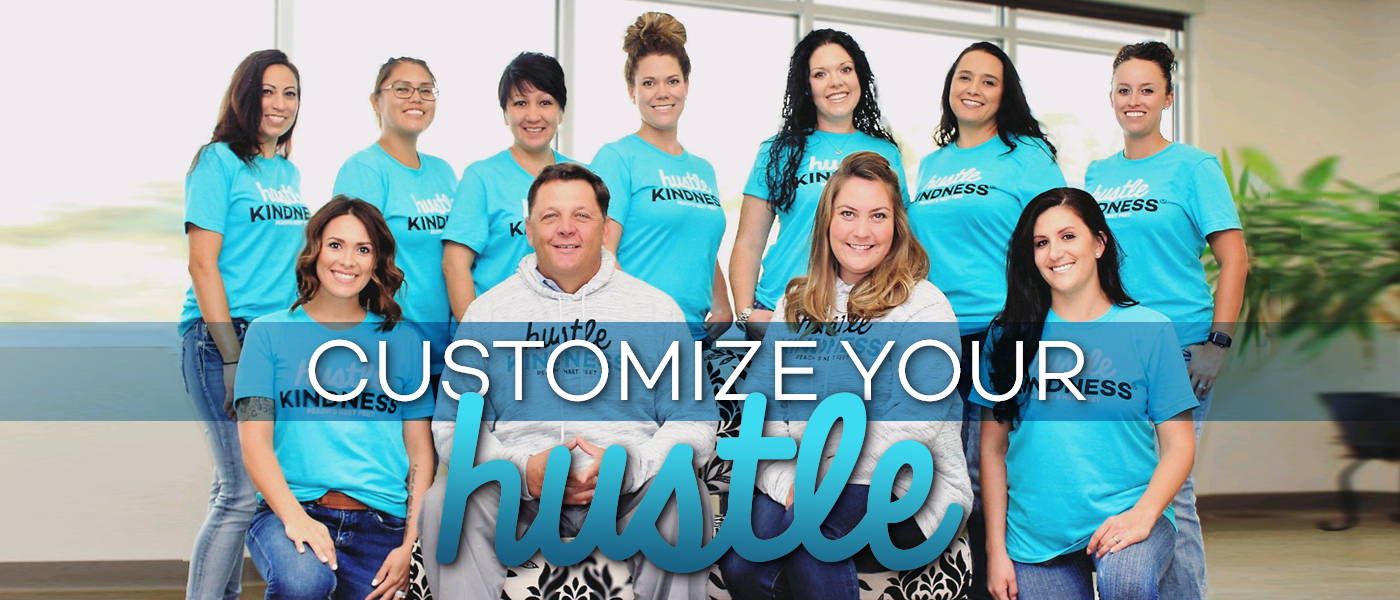 Are you ready to join the "Hustle" and be part of a kindness movement?
We here at Peach's Neet Feet have built a platform of spreading joy and kindness into the lives of children and families that have experienced hardship in the form of chronic illnesses and disabilities. However, we didn't stop there; we believed that kindness needed a revolution, an awakening. In order for that to happen, we needed people to get out there and hustle. This is the reason we created Hustle Kindness® and why we invited others to join us in this vision.
You might ask, "How do we do that?" Well, we're glad you've asked, and it's really quite easy. Consider purchasing our Hustle Kindness® t-shirts, and customizing it with your logo, for your entire staff. Let them know that the Hustle Kindness® initiative is designed to promote the intentional desire to reach out to customers, friends, families and strangers with acts of kindness. The ultimate goal is to make the world a kinder place for all. And how can your employees not embrace the hustle while wearing our Hustle Kindness® shirts?
We would be so ecstatic if you, and your company decide to support Peach's Neet Feet and join our mission and vision and help spread the word.
Did you know?
All proceeds (after costs) help fund our work at Peach's Neet Feet. By purchasing your custom designed shirts you are supporting our vision to Hustle Kindness® to our community and throughout the nation.
This is all you need to do to make this happen:
· We need a minimum order of 24 shirts, for one color ink printing, 48 for two color.
· There is a one time screen fee of $30, which must be paid upon submitting your order
· Your company may add its own logo, or text only
· Logos/art should be provided in Vector format (conversion possible with early notice).
· Screen print in two color maximum.
· Printed t-shirt prices vary from $16-$30 (depends on shirt style).
· Check out https://www.bellacanvas.com for style and color options (please be aware that some styles may cost slightly more)
· Upon submitting order, a deposit of half the total price is required.
· All orders are final and shirts must be picked up within one week of arrival (if local).
· Shirts may take up to 4 weeks (from approval of mock up).
· Lastly please sign a Letter of Understanding, which must be submitted with the screen fee and deposit
We have partnered with over 250 businesses and organizations, and would also love it if you, and your staff joined us. You can find out more about Peach's Neet Feet and the kindness movement by following us on Facebook, Twitter, or Instagram
For more details, and information please email us at info@hustlekindness.com